Hello. FOP is my favorite show on Nickelodeon. I am male.
History on this Wiki
I have been contributing on this wiki ever since May 5, 2012. The first page I created was Jim Cosma. Then I had the idea of Seesponges, which I found funny. Mr. Seesponges was created and then other family members. Eventually, it all had to be on a show so I created Fairly OddSeesponges (Series). Now at first, I was going to make Mr. Seesponges the main character that appears most often, then I made Connor and Jenna appear most often. Ever since then, Seesponges has been a hit show.
Fairly OddSeesponges Sequence
95% of all the pages I have created are Seesponges related. The pilot episode for Fairly OddSeesponges is Incorrect Spelling since Seesponges is incorrect grammar (that other anonymous user on FOP Wiki was bad at english!). Then the first real episode was A Large Problem!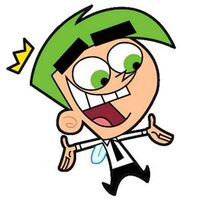 Help from Others
Obviously, I did not do Fairly OddSeesponges on my own. I am helped by Baby Poof93 and sometimes by other contributors.
About Me
I live in California and Oregon is my favorite state. Basketball and Soccer are my favorite sports. Frisbee is awesome! I like seeing them fly in air slowly so they look like UFOs. Egyptian Mythology is another interest, and that's why I made Connor Seesponges have the same interest.
Other Wikis I Edit
Fairly OddParents Fanon Wiki
Fairly OddParents Wiki
Road to Randomness Wiki
Fish Hooks Wiki
Regular Show Wiki
The Amazing World of Gumball Wiki
Towns and Cities Wiki
Tim Burton Wiki
T.U.F.F. Puppy Wiki
T.U.F.F. Puppy Fan Wiki
Randomness Wiki
| | |
| --- | --- |
| This user is a fan of Timmy | |
| | |
| --- | --- |
| This user is a fan of Cosmo | |
| | |
| --- | --- |
| This user is a fan of Wanda | |
| | |
| --- | --- |
| This user is a fan of Poof | |
| | |
| --- | --- |
| This user is a fan of Angel | |
Community content is available under
CC-BY-SA
unless otherwise noted.