(For a list of Characters, see Twistdom Characters )
Twistdom was, and is being preserved for a reason. It's being preserved to prove that the FOP fandom isn't all Poof, Cosmo, Timmy, and Wanda recolors. 
It's here to prove that the FOP fandom CAN be original, if in the right hands of smart fangirls, or even fanboys for that matter.
Twistdom is one of the only remaining fandoms that isn't revolving around recolors.
We are strong. We are brave. We are united.
We will not stop.
We are the 1%.
The Beginning
Twistdom is the double-fandom made by, and shared between the users Invadermay123 , and InvaderUgli, who both reside at DeviantART.
It's purely based on the Anti-Fairies and Pixies. Many of the 'episodes' revolve around H.P. and Anti-Cosmo, who are father and son. They get into many adventures, wether it being something small like losing a sock, or something larger, like being attacked by the Fairies.
Since it's start date in 2011, it's been consited of Role Plays, fan art, and fanfiction.  It's had quite a large amount of original ideas, and crossovers.
Original Plot
The original idea for the fandom was to have H.P. and Anti-Cosmo as long-lost childhood friends. After a few months of developing, it was permanently changed to its current status.
Sides
There are two sides of the fandom, (obviously), that make it what it is. InvaderUgli keeps track of the Pixie side, role playing all of them, and Invadermay123 keeps track of the Anti-Fairy side. There's a large amount of OCs and canon characters.
Original Ideas
Anti-Sparky: Anti-Sparky was first created by Invadermay123 and InvaderUgli, having the first appearance online before the copies came.
Genderbent Pixies: Genderbent Pixies were created by InvaderUgli near the beginning of the fandom.
Genderbent Anti-Fairies: Genderbent Anti-Fairies were created by Invadermay123 near the beginning of the fandom, alongside the Genderbent Pixies.
Nega are one of the first fandom species to ever have existed in the FOP fandom, aside from Hybrids.
Junk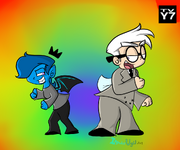 Community content is available under
CC-BY-SA
unless otherwise noted.