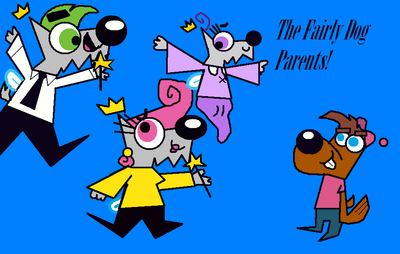 The Fairly Dog Parents!
is the same as
The Fairly Odd Parents
with the same episodes but they all in dog forms. Same episodes, Same series, Same characters, But only dogs!
Here is the beginning intro (Theme song):
Narrarator: Timmy is an average dog, and no one understands;
Mom and Dad and Vicky, Always giving him commands,
Vicky: "BOW-WOW! (Bed twerp!)"
The Doom and Gloom up in his room, The fun ends instantly...
...But his magic little bones that grant his every wish, 'Cause in reality, they are his Dog Parents, Fairly Dog Parents!
Wanda: "Snouts and ears!"
Cosmo: "Funny curly things!"
Dog Parents, Fairly Dog Parents,
Weiner Dog, Peacock, Hot rod, Hot dog!
Timmy: "Ruff ruff, Bark, bark, Arf Arf, Bark bark Ruff ruff, BOW-WOW-WOW!"
Dog Parents, Fairly Dog Parents,
They'll flip your lid when your a pup,
With Fairly Dog Parents!
Vicky: "Bow-WOW."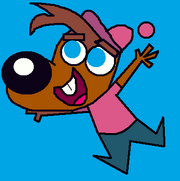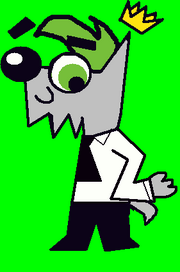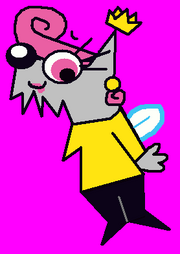 List Of The Fairly Dog Parents Episodes
Dog's Day Afternoon 2 : Timmy accidently gets turned into a human boy by Poof.
Fairly Odd TV : Cosmo and Wanda are sucked into a TV and they soon star in a hit TV Show all over the globe and it's up to Timmy and Poof to get them out before Crocker watches it!
Babysittin' Blues : Timmy is forced to babysit Foop by Anti-Cosmo!
Jorgan Von Doodle-Head : When Jorgen accidently is pushed into Poof's play "Yankee Doodle Dandy", where Poof was chosen to be Yankee Doodle, the adudience then choses Jorgan to be Yankee Doodle and they make Poof Table #3. How can Jorgan make it up to Poof before the play begins?
Rock the Diaper : Foop and Poof compete against each other in a Musical for school.
Community content is available under
CC-BY-SA
unless otherwise noted.