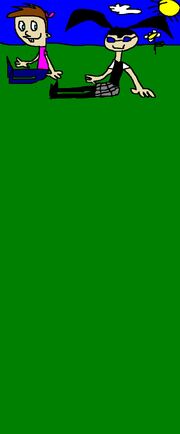 The evil substitute teacher/Fairy Hunter Ms. Doombringer returns to Dimmsdale and teams up with Crocker to steal Timmy's fairies. Can Timmy defeat this dastardly duo?
Songs
Song list:
I'm Tootie! (instrumental)
Danny Phantom Theme (heard from TV during his cameo)
Trivia
The music for the end credits is, instead of the instrumental of the theme song, the instrumental of I'm Tootie!. This song was written for this episode, but ended up being used in another one.
Goof: Ms. Doombringer has Ms. Sunshine's orange hair instead of her white hair in some scenes. One such scene is when she says "Finally. I managed to get all the way back to Dimmsdale. Now for those fairies!"
Goof: Timmy says he's watching Crash Nebula, but what's actually on the TV is Danny Phantom.
Danny Phantom: Timmy is watching this show when Chester and AJ come over, even though he says it's Crash Nebula.
Community content is available under
CC-BY-SA
unless otherwise noted.