Shelly
Gender:
Female
Species:
Pixie
Age:
40,000
Hair color:
Black
Eye color:
Purple
Personal Information
Affiliations:
 
Pixies, Inc.
Occupation:
 
Head Pixie
Residence:
 
Pixies, Inc.
Homeworld:
 
Pixie World
Family
Parents:
Nancy (Adoptive Mother)
Children:
Sidney

Deena

Diego

Grandchildren:
Taffy (Granddaughter) (LEMONNATION)

Lester (Future grandson) (TWISTDOM)

Siblings:
Anti-Carrey (Sister)

Anti-Wally (Brother-In-Law)

Others:
Aneles (Niece)
General
Shelly is the genderbent version of Sanderson. In Twistdom she is carefree, purposly enjoys weirding people out with "randomness", and is slightly derpy. While in Lemonnation, she's more jerky and serious due to life events. She's more serious than Sanderson in both fandoms, but still has random bursts of weirdness in Lemonnation because she's a Pixie.

She lives in Pixie World in both fandoms, and is now the female Head Pixie in both. Her favorite son is Lemongrab, and even though she doesn't see him a lot, she states she misses him a lot.
Appearance
Shelly is much like every other female Pixie; she has the normal (Twistdom/Lemonnation) female Pixie hair with two tuffs as bangs. She wears the normal Pixie suit with (usually) a hat. When not wearing her suit, she either wears a grey shirt or a white shirt. She's slightly shorter than other females.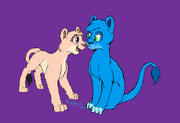 Community content is available under
CC-BY-SA
unless otherwise noted.