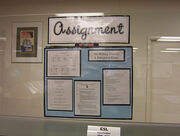 See Angeles Middle School is a middle school in See Angeles. It is the school that appears more often in the TV Show Fairly OddSeesponges.
Location
SAMS is located 4 miles out of downtown See Angeles. It is at the intersection of Edinger and Washington Boulevard, which can be taken to Downtown. Francis Cornfish takes Highway 56 which runs near the school. Francis lives in the other side of the city and is close to the city limit. Dracula View is nearby.
List of Students
List of Staff
Mr. Huckleberry
Mr. Joe
Mrs. I Am Stinky
Mrs. Fat
Ms. Parkinbeach
Mr. Perry the Platypus vs. Dr. Doofenshmirtz
Mr. Let's Play Beach!
Mrs. Lake (Principal)
Mrs. I Am A Nurse (Nurse)
Mrs. Anita Bath
Descriptipon
See Angeles Middle School is the largest one in the district. It has a field large enough for a Soccer game, unlike most schools in the city. There are 5 basketball courts and 3 handball courts. There is just plain pavement for the students who do P.E. The Students only get P.E. Lockers. The Hallways are named and there are plants in them.
Classes
Language Arts
Math
Science
Social Studies
Spelling (Sometimes)
Music
Other
P.E.
Poke The Fat Cow with a stick!
Sports Teams
SAMS has a basketball team called the Seesponges, named after Connor Seesponges who has been a great student at the school. They have won many times. They have a Girl's Volleyball team called the Girl Sea Animals. There is a Boy's Baseball team called the Fat Animals and a Girl's Softball Team called the Yams. There used to be a Girl's Soccer Team but it got run down because they didn't win a single game. Coincidently, the team was called the Horrible Soccer Players. There also used to be a football team that was called the Horrible Football Players but got run down for the same reason.
Poke the Fat Cow With a Stick!
Poke the Fat Cow With a Stick! is what all middle schoolers in the district play on Mondays, Wednesdays, and Fridays. It is basically just getting a stick and poking a fat cow with it. Students enjoy it more than learning new things. The cows don't get mad but the more the cow moves, the more points you get.
Trivia
The school is somewhat unusual compared to most middle schools.
Community content is available under
CC-BY-SA
unless otherwise noted.