Sanderson
Gender:
Male
Species:
Pixie
Age:
40,000
Hair color:
Black
Eye color:
Purple
Personal Information
Affiliations:
 
Pixies, Inc.
Occupation:
 
Head Pixie
Residence:
 
Pixies, Inc.
Homeworld:
 
Pixie World
Love Interests:
 
Princess Bubblegum (Lemonnation)

Shelly (Twistdom)
Family
Parents:
Darcy (Biological Father)

Macie (Biological Mother)

Durante (Biological Uncle)

H.P. (Adoptive Father)

Spouse(s):
Shelly (Ex-Wife)
Children:
Sidney (Daughter)

Simon (Son)

Deena (Daughter)

Grandchildren:
Taffy (Granddaughter) (Lemonnation)

Lester (Grandson) (Twistdom)

Siblings:
Anti-Cosmo (Adoptive Brother)

Anti-Schnozmo (Adoptive Brother)

Anti-Clarice (Adoptive Sister)

Anti-Wanda (Sister-In-Law)

Pets:
Andy (Cat)
Others:
Lemongrab (Son-in-law) (LEMONNATION)


Foop (Nephew)

Anti-Rosemary (Niece)

Anti-William (Nephew)
"Can I eat that?" 
--Sanderson

Sanderson is now the ruler of Pixie World, following Durante's original laws more than H.P.'s. He calmed down almost completely after H.P.'s death (but still has random Pixie spaz moments). He's somehow dating Princess Bubblegum while dating Shelly while dating three other girls at the same time, but that probably isn't canon.
He was adopted at a very young age by H.P., after his biological parents died.
Appearance
Sanderson has three floofs on his hair as bangs (two in canon), resembling the crest of a Cockatoo. Like all Pixies, he can flatten them and raise them, but has trouble keeping them flat. He was a scrawny twig at a younger age, but has currently filled out to a normal male Pixie structure. He wears a normal grey Pixie suit with H.P.'s hat.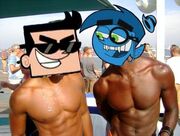 Community content is available under
CC-BY-SA
unless otherwise noted.