Pool



"Uh, A Little Help, Please?"

Gender:
Female
Species:
Fairy
Age:
1 (Immortal)
Birthday:
(Immortal, Remember?)
Hair color:
Orange-Brown
Eye color:
Green
Personal Information
Affiliations:
 
Fairy World

Spellementary School

Occupation:
 
Attending Spellementary School {As a Student, Not a Teacher}
Residence:
 
Fairy World
Homeworld:
 
Fairy World
Aliases:
 
A Fresh Diaper
Friends:
 
Poof, Anti-Wanda (Sometimes), All Fairies
Enemies:
 
Loop (Anti-Pool), Foop (Anti-Poof), Anti-Cosmo
Love Interests:
 
Poof (Possibly)
Interests:
 
Getting her diaper changed
Goal:
 
To soon become Potty Trained
Family
Parents:
Combo, Wendy
Grandparents:
Grandma Kelly

Grandpa Kelly
Production Information
Voiced by:
Andrea Libman
Pool is another Fairy Baby that is Good Friends with Poof. Her parents are Combo and Wendy. She has very pale skin and she usually always needs a new diaper.
She is the 13th fairy baby born in thousands of years
Appearance
(See Picture)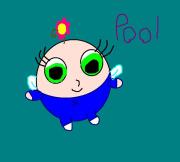 Community content is available under
CC-BY-SA
unless otherwise noted.