{{{name}}}
Season 29, Episode 3b
Air date
25th January 2028
Written by
User: DeeDee2510
Directed by
Butch Hartman
Episode guide
Previous
{{{previous}}}
Next
{{{next}}}
Plot
To Timmy´s school coming new classmate named Jerry and Jerry want to be Timmy´s friend and becomes annoying to Timmy
Cast
Tara Strong as Timmy, Baby Poof
Daran Norris as Cosmo
Susanne Blakeslee as Wanda
Tom Kenny as Jerry
Carlos Alazraqui as Mr Crocker
Jason Marden as Chester
Gary Leroi Grey as AJ
Dionne Quan as Trixie
Gray DeLisle as Veronica
Faith Abrahams as Francis
Alyson Stoner as Tina
Summary
Timmy goes to comic book shop to newest number of Crimson Chin, but finds sameone buy last. Timmy is sad and go to home. Next day Mr Crocker presents new student ( and shoot FAIRIES! after that... typical Crocker! ). Jerry sits next to the Timmy and begin talk with him, but Timmy responding. After hour, Jerry still follow Timmy and talk to him, but Timmy still responding. When is with Cosmo, Wanda and Poof alone, he say Jerry is annoying and Cosmo accept and say he thinks Jerry have brain made by pillow ( what he too ). Wanda say to Timmy that was so rude to Jerry, because he only want be his friend. But Timmy dont want be his friend. After school go to arcade, but Jerry find it and still talk to him. Go to meadow, but that is Jerry´s favorite place, because love catching buterflies. Wanda him still say to be Jerry´s friend. Timmy thinking- have other option? After that little follows him, and finds he have last number of Crimson Chin. Jerry is sad, and begin understand Timmy dont want be his friend. Timmy have dilemma- Yes, Jerry is annoying, but have at least one interest like he. And when Jerry want be his friend why not? And is determined! Timmy go to him and ask or to be his friend. Jerry is happy and to Timmy offers to or does not want to borrow a few days of the comic. Timmy accept and thanks. After that are Timmy and Jerry talk together and Wanda is happy of Timmy.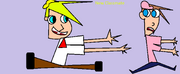 Community content is available under
CC-BY-SA
unless otherwise noted.