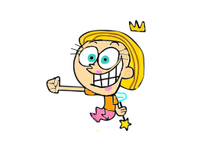 Melanie Fairywood
Biography
Melanie Olivia Fairywood is the daughter of a pixie (John Pixlerator) and a fairy. (Mallory Fairywood) She has two siblings, Harry and Willy and a fairy family dog, Woofy. She has a godbrother, too, Tommy Tyning. Her voice actress is Dionne Quan. (Trixie's voice actress.) 
Appearances
She will debut in the Wishful Fairy Life show (a cartoon made by her owner) in season one.
Quotes
"It's so exciting!! I'm a Fairy Godsister! OH YEAH!!! (everyone looks at her) Sorry, I just love to be a fairy."
"Hello Tommy, I'm Melanie, and he is my crazy brother, (Harry: Hey!)and... WE'RE YOUR FAIRY GODSIBLINGS!"
Gallery
Coming soon.
Community content is available under
CC-BY-SA
unless otherwise noted.