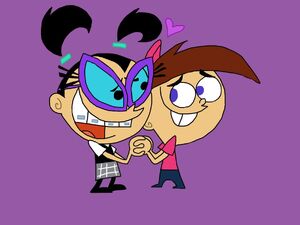 I'm So Glad I Have You! is a song sung by Timmy Turner and Tootie about their love for each other in Return of the Musical: Vicky's Evil Plot!
Lyrics
Timmy: I'm here with the girl who makes me smile!
Tootie: I've got a boyfriend who has got style!
Both: I'm so glad that I have you!
I'm so glad that you have me!
Tootie: I've got a guy who has no flaws!
Timmy: I've got a girl who I love because
Both: We're so right for each other!
Timmy: In the past, I was blind!
Tootie: I was losing my mind!
Both: But now we've found love!
We're together forever, till the end!

`Cause our loved is not timed!


Timmy: With my girlfriend!
Tootie: (simultaneously) With my boyfriend!
Both: I'm so glad that
I,
Have,
YOOOOOOOOOOOOOOU!
Community content is available under
CC-BY-SA
unless otherwise noted.