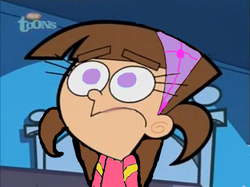 Hannah Sand is a 10 year old girl. She is described as way too shy for her age, barely talking to people she doesn't know (Unless they say something she's interested in, then she's a complete chatterbox.). She likes chocolate pizza and soda. She was apparently somewhere in Dimmsdale in Merry Wishmas when she didn't get what she wanted (A robot puppy, she was never on screen.), and started to cry because she never gets a robot puppy. Her sensitivity makes her feel things very strong, so although she qualified for a wish coupon, she got Fairy Godparents instead, and automaticly wished for the robot puppy (Typical Hannah).

She is also very absent minded, but she is very smart, but nowhere near as smart as AJ. She likes being right, and can't swim very well.
Her hair is long with to pigtails on the side.Her eyes are pastel purple and she wears a pastel purple and hot pink headband, blue jeans, and a hot pink and yellow sweatshirt. Her shoes are pastel purple.
Community content is available under
CC-BY-SA
unless otherwise noted.