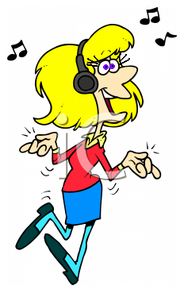 Cadance
is the babysitter of
Flowerbloom Callie
. She is Relentless, Frisky and Optimistic. She also has a Snarky sense of humor. She is a fairy, But does not have any wings or a crown. She only has a wand, and she hides it so no one can know her secret.
Personality
She is always "Happy-Go-Lucky", and she is always there to help a friend in need. She is a bubbly, happy character. She loves children, Especially Fairy babies! Her first appearance was in the episode "Flowerbloom's Royal Party" and is also supposed to be future Queen of Fairy World. She is relentless and optimistic, and is also loving and caring. Her main occupation is babysitting Fairy Babies, and her best talent is being able to snap her fingers at a rapid speed and listening to music nonstop. (See Picture --->) Cadance dislikes Jorgan Von Strangle because of his violence, especially when young children are around. But to make this more easier to understand for you, She is just the best babysitter you'll ever meet!
Origin/Appearances
Cadance has yet only appeared in episodes when Flowerbloom and her sisters are around. She has also been Cameo-Spotted in several screenshots; But just not fully shown. She has been shown as a random person walking around in Dimmsdale, Or in other places. In other words, she is a appearing/reappearing character. She was born in Fairy World on March 2nd, 1994 and was raised on Earth. Her father was half human, half Fairy, While her mother was half Pixie, half Fairy. She is just 18 years old.
Family
(This article needs construction, please.)

Looks
Cadance has purple eyes with 3 eyelashes. She also wears a red sweater, blue skirt, light blue longstockings, and teal-green slippers. She has blonde hair with curls in it.
Dislikes
People getting hurt (She always gets emotional)
Bubble gum (Everytime she tries to blow a bubble, the gum gets stuck in her hair.)
Growing pains
Her feelings being hurt
Being sad
Anti-Cadance (Her Evil Anti-Counterpart)
Pairings/Friends
Likes
Children (All ages)
Flowers
Love
Peace
Happiness
Bioagraphy
Community content is available under
CC-BY-SA
unless otherwise noted.