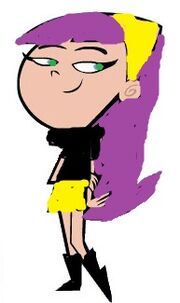 Boydie Chang
is the alter-ego Princess Mandie took up when she found out Mark Chang was hiding on earth. Since the last time she visited Earth, she didn't have an alter-ego, so she scared all the kids & couldn't find Mark Chang. Boydie Prentice is loved by all the boys at Dimmsdale Elementary School. Trixie Tang & Veronica are jealous of her being loved by many boys.
Appearances
She has appeared in two episodes so far.
Personality
Boydie Chang was originally depicted as a human angel in the earlier script drafts, but in the final drafts, she is depicted to be more like Vicky The Babysitter. She is not very smart or athletic or funny. However, she is pretty, & good at singing. She cannot draw very well.
Trivia
1.Her name was Bonnie in her debut episode (until the end). The reason was when Mark Chang rejected her (he was supposed to act like an Earthling but couldn't help it) (similar to the reason Princess Mandie changed the pronunciation of her name from Mandy to Mandie).
Community content is available under
CC-BY-SA
unless otherwise noted.