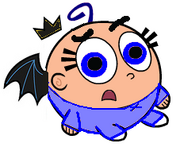 Blackberry is the Future daughter of Angel and Pentrenellistheniso. She is Half Fairy/Anti-Fairy baby whose Species is rather shocking. She is not like other Fairies or Anti-Fairies...
Character
Blackberry
Biography
Blackberry
Description/Looks
Blackberry wears a Dark-Indigo Jumpsuit/Sleeper with Dark Blue eyes. She has a strand of curly Black hair on her head.
Appearances
Blackberry appears in almost every episode of the Fairly Odd Future Series.
Birth
Blackberry
Personality
Blackberry is a frisky, Bittersweet, Clumsy baby with the touch of a lamb and the mood of a lion.
Gallery
Community content is available under
CC-BY-SA
unless otherwise noted.