===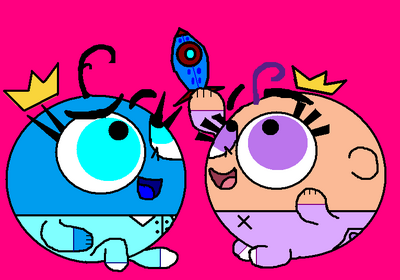 WARNING: THIS CHARACTER BELONGS TO BabyPoof93 (ME) ONLY. PLEASE DO NOT USE UNDER ANY CIRCUMSTANCES UNLESS YOU ASK ME FIRST OR I WILL BLOCK YOUR ACCOUNT. THANK YOU.
BabyPoof93
20:45, May 30, 2012 (UTC)
Ting is a fake character that was only used in a fanfiction made by BabyPoof93. He is not a real character, but was an Idea that has shocked quite a few people! He appears to be half Fairy, and Half Anti-Fairy. He is alot like Poof, and is round like Poof, But also is blue like Foop, and also has Foop's hairstyle. The Fanfiction started like this: Cosmo and Wanda had broken up, Cosmo took Poof with him, and Wanda took Timmy. Cosmo and Poof went to live in Fairy World. Meanwhile, Anti-Cosmo and Anti-Wanda had broken up as well, and Anti-Wanda was sent to live in Fairy World (The only reason they let her stay is because she is so stupid and harmless). She and Cosmo met, Fell in love, Were soon married, and that is how Ting came along! (This is only a made up Fanfiction.) Ting has pointy ears, one fang in his mouth, Two eyelashes, A yellow crown (Showing he is part Fairy), a light baby blue sleeper with buttons, A strand of black hair (When he is older it will be Green like Cosmo's) with a small curl on it, and thin eybrows. He loves playing spaceman like Poof does, and loves playing Cowboy as well. He is more of an Alien-like, mutant, Anti-Fairy/Fairy baby that is adorabley weird! (Note: Please do not use this character in any kind of Fanfiction of your own or put him in a Fanmade episode, He is not a full character, He is only one-time appearance character that is fake.) Sometimes, His eyes appear to be Light Baby Blue, And sometimes appear as one eye Pink, like Anti-Wanda's, and the other Green like Cosmo's. But in most of his appearances (Which is only one) his eyes are Satin Blue.
Community content is available under
CC-BY-SA
unless otherwise noted.