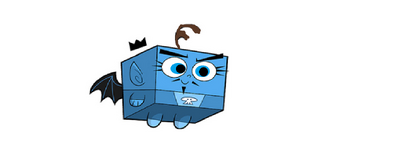 Anti-Flynn
Gender:
male
Species:
Anti-Fairy
Age:
2-4
Hair color:
dark brown
Eye color:
blue
Personal Information
Friends:
 
Foop
Enemies:
 
every fairies

Tina Tribune,every other nice peopole

Goal:
 
Take over the universe
Family
Parents:
Anti-Quincy

Anti-Olive

Spouse(s):
Cutie ( future spouse )
Siblings:
Anti-Cutie
Production Information
Voiced by:
Eric Bauza
Anti-Flynn is Anti-Fairy counterpart of Flynn. He is little nerdy, but evil!
Opossites
Flynn is good but Anti-Flynn is evil
Flynn love fun, but Anti-Flynn hate fun
Flynn have hair to P, but Anti-Flynn have hair to F
Flynn havent facial hair, but Anti-Flynn have beard and moustache
Community content is available under
CC-BY-SA
unless otherwise noted.