Anti-Carrey
Gender:
Female
Species:
Anti-Fairy
Hair color:
Blue
Eye color:
Green
Personal Information
Affiliations:
 
(Genderbent)Anti-Fairies
Occupation:
 
Leader of (Genderbent)Anti-Fairy World
Residence:
 
Anti-Carrey's Castle in (Genderbent)Anti-Fairy World
Homeworld:
 
(Genderbent)Ant-Fairy World
Enemies:
 
(Genderbent)Fairies

(Genderbent)Anti-Pixies
Family
Parents:
Nancy(Genderbent H.P.)(Mother)

Anti-Joe(Genderbent A.M.C.)(Father)

Anti-Bill(Genderbent Anti-Bailey)(Father-in-law)

Genderbent Anti-Frank(A.B.D.)(Unnamed)(Mother-in-law)

Grandparents:
Genderbent Ellie(Maternal Grandfather)

Meg(Genderbent Pavi)(Maternal grandmother)

Spouse(s):
Anti-Wally(Husband)
Children:
Aneles

Anti-Rickey(Future son)

Anti-Willow(Future daughter)

Grandchildren:
Genderbent Adolf(Unnamed)(Future granddaughter)

Genderbent Camelia(Unnamed)(Future grandson)

Siblings:
Shelly(Adoptive sister)
Others:
Sidney(Niece)

Simon(Nephew)
"Shelly, I would appreciate it if you never lifted."
-Anti-Carrey
Anti-Carrey is the genderbent counterpart of Anti-Cosmo
Birth and Cubehood
She was abused by her father the first few years of her life, along with her older siblings, Until her mother finally divorced him and moved out. She was a very intellectual yet anti-social baby, always locking herself up in her room, which greatly annoyed her mother. She was very spoiled, despite her mother having a limited amount of money. because her mother sucked
Childhood
Her anti-social behaviors continued through her childhood, much to her mother's dismay. Her adopted sister, Shelly, became part of the family early into her childhood, and she met her future husband, Anti-Wally, during middle childhood-ish. She became slightly more social,but not by much.
Teenhood
Anti-Carrey was kicked out by her mother when she was in her late teens, her behaviors being too much for her aging mother to handle, She ran away with Anti-Wally and they lived like blue hobos for a while. She killed the leader of the genderbent Anti-Fairies at the time when she was just finishing her teen years, and took control of genderbent Anti-Fairy World.
Random
she likes making bread with nancy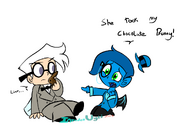 Community content is available under
CC-BY-SA
unless otherwise noted.